The Etkiniz EU Programme will hold a webinar on Monitoring Gender Based Digital Violence on Friday, April 17th 2020 at 14:00. The webinar, which will feature Gender Expert Nurcihan Temur as a guest, will bring together civil society organisations and the Etkiniz EU Programme.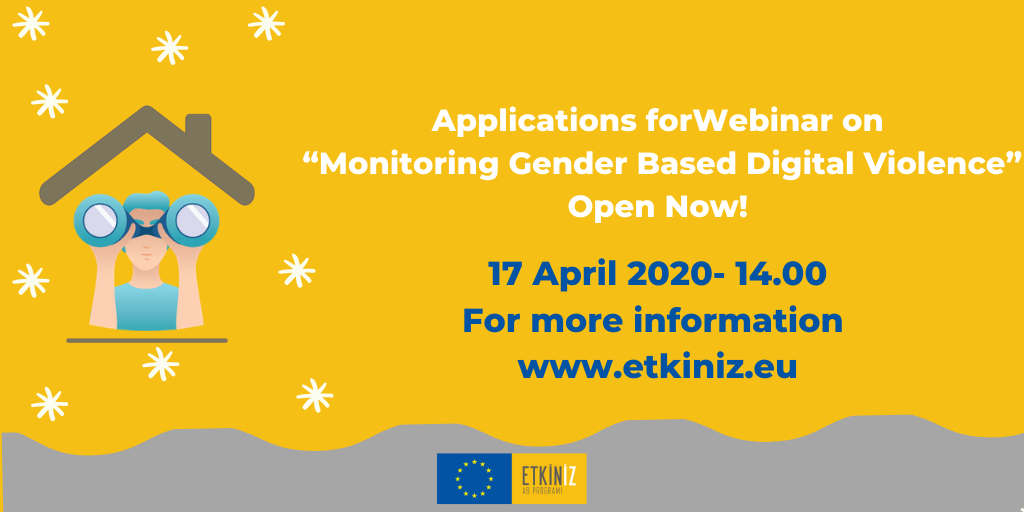 Which Subjects Will the Webinar Cover?
The main questions Nurcihan Temur will bring up for debate at the webinar are the following:
What exactly is digital violence as another form of gender-based violence?
What are the mechanisms used to address gender-based digital violence?
What does monitoring gender-based digital violence cover?
How to Participate in the Webinar?
You may join in the online session by using either your computer or your smartphone. Those who want to participate should click on the link below and fill in the registration form:
https://us02web.zoom.us/meeting/register/tJctd-GoqToulTy7vZECFRiASEdqG-MMqA
After registration, you need to click on the invitation link, which will be sent to your e-mail address towards the time of the meeting and download the Zoom application, over which the webinar will take place, to your computer or your smartphone. The download should take no longer than 10 seconds.
If you are not directed to the meeting after downloading the application, you may join by entering the code 930-080-714 on the screen that comes up.
Important Notes
Webinar attendance is limited to 100 people. To prevent problems with the progress of the meeting, it will not be possible to join the webinar once 100 people have joined it. If there are more than 100 registrations, the first 100 users who enter the system at the time of the meeting will get to join.
A reminder e-mail will be sent to you prior to the webinar by the Etkiniz EU Programme.
Pınar Baykan of the Anlatan Eller Association will provide sign language interpretation for the webinar.
Please make sure that you have uninterrupted internet access and headphones without sound problems before the webinar.
You may send any questions regarding the webinar to the e-mail address info@etkiniz.eu.
For more detailed information on the Etkiniz EU Programme you may visit the Stay in touch for the online trainings
Etkiniz Facebook:  https://www.facebook.com/etkinizab
Etkiniz Instagram:  https://www.instagram.com/etkiniz/
Etkiniz Twitter:  https://twitter.com/etkinizab
Etkiniz YouTube:  https://www.youtube.com/channel/UCup8UZ0_ZiforqoM-acAr7g